National Conference 2020: The Intimacy Deficit
In 2020, our annual National Conference will be from Friday 2nd to Sunday 4th October.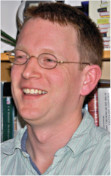 Our speaker will be Ed Shaw. Ed is the pastor of Emmanuel City Centre in Bristol and part of the editorial team at www.livingout.org. He loves his family and friends, church and city, gin and tonic, music and books. He's the author of The Plausibility Problem and the forthcoming The Intimacy Deficit. Ed writes...
Whenever any Christian is not enjoying "life to the full", the true happiness, that the Good Shepherd offers all his sheep (John 10:10) it is because they are experiencing an intimacy deficit – a lack of oneness or connection with God, with themselves, with others and with creation. Turns out that God created us to enjoy life-giving intimacy in each of those four key relationships and we struggle in life when we don't. So we'll be spending our time together thinking about how we can increasingly experience intimacy with God, self, others and creation.
Ed's four talks at the weekend will be:
Session 1: Intimacy with God
Session 2: Intimacy with Self
Session 3: Intimacy with Others
Session 4: Intimacy with Creation
Please click below to book your place:
Book Conference